Perineal massage can especially be helpful for postpartum women who experience pain with sex, or to preform perineal scar mobilization on those who have had perineal tears during childbirth. It can help improve blood flow to the area and encourage muscle relaxation. But what is it exactly, and how do you do it?
Why do perineal scar massage?
The perineum is the area between the vagina and anus. Benefits of perineal massage include:
Pain with sex
Incomplete bladder emptying
Constipation
Vaginal pain/itching/burning
Pain with sitting
Perineal massage can also be helpful during pregnancy to reduce the risk of tearing during delivery.
How do I do it?
There are several ways to perform manual therapy on the pelvic floor muscles. This will also help retrain the vaginal wall muscles to relax. Make sure to wash your hands with soap and water before starting. Below is a step by step guide on how to do it.
I'll use a clock face as an example of how to describe a perineal massage as it pertains to the vaginal opening:
12:00 being towards the urethra and clitoris
6:00 being towards the perineum and anus
Using your index finger, insert a clean finger in the vaginal opening towards the 6:00 position.
Press down and hold for 30-60 seconds. Your goal is to feel a stretch, a little tingling, but not pain greater than 3/10.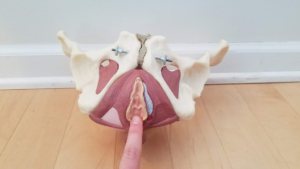 Move your finger towards 3:00 then back to 6:00 then over to 9:00. You want to make a "U" and hold within that region 30-60 seconds in a few different spots.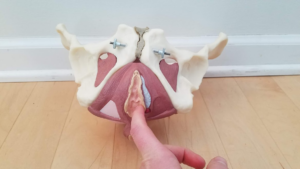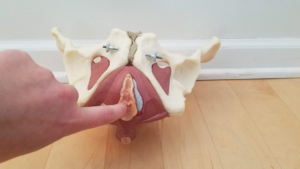 You could also enter a second finger or more and work to spread the vaginal opening wider from 3:00-6:00 and 6:00-9:00 or 3:00-9:00.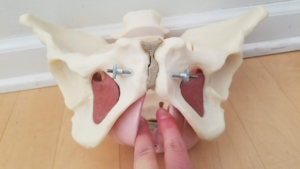 Perform for a few minutes (~5min), even 1 minute is a great starting place.
Perform daily or every other day.
Returning to touch
When returning to touch of our vulva/vagina postpartum, "choose ways that feel comfortable and appropriate for your goals. Often, our lack of awareness, comfort, and confidence in knowing this part of our body may contribute to fear, pain, and tension we feel." -me (Jen Torborg) from Your Best Body after Baby.
My own experience with perineal scar massage postpartum
I did have a 1st degree tear that I chose not to have stitched up as it seemed pretty minor. I looked at it with a mirror with my midwives and made the decision together.
I don't necessarily recommend looking at your vulva immediately after birth, but the pelvic PT in me wanted to know exactly what happened and make an informed decision with them about stitches or no stitches.
I was very careful to imagine my "thighs glued together" for the next 7-10 days if I was up walking and minimized stairs as much as possible to improve healing.
In the first days/weeks postpartum I would lightly touch my vulva, perineum, and perineal scar site to decrease any hypersensitivity during the healing process. I used very, very gentle touch during this part and only external, sometimes just over underwear or in the shower a gentle pat.
Around 4-5 weeks postpartum I started to touch the scar with slightly more pressure but still mostly external.
Around 5-6 weeks I decided I felt ready to start using internal touch. I begin perineal massage with first my finger while in the shower or lying down in bed. I did this every other day for about a week. Then I introduced a dilator and performed the massage again.
Then around 6-7 weeks I had an appointment with the midwives and consented to an internal exam to give me feedback on my healing.
After that I began more scar tissue work on my perineal scar. As the sensitivity, pain, and numbness began to decrease at my scar and touch to my vulva, perineum and vagina felt better, I felt ready to resume sex with myself and then with my partner.
Need help returning to sex?
Here are some other ideas on your postpartum return to sex from my book Your Best Body After Baby
Start with feeling yourself gently externally and then internally to notice anything that feels off or painful. Try to create positive touch experiences.
If you have a partner, have an open and honest conversation about easing back into sex or other forms of intimacy.
Modify intimacy to find ways that are not painful as your body heals physically and mentally.
Reach out to a pelvic floor physical therapist for an individualized assessment and treatment plan to get you back to pain-free intercourse!